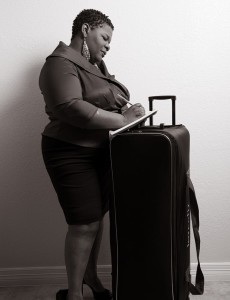 CEO/ Playwright/ Producer/ Director/ Author/ Songwriter
"Wherever the Lord sends me I will go, to enlighten, to encourage, to give hope, and to minister through the medium of drama. Yes, that's me a soldier on the battlefield fighting for my Lord." & go-getter by nature,
Mrs. Johnson has written and produced popular plays such as, "Am I My Brothers Keeper?", "What's Going On in the House?", "Looking for Love in All the Wrong Places", "Churchin, Clubbing and Still Making Noise" Part-1&2, "The Silent Cry" (a youth focused play),  My Wife and the Other Woman, The Man I Love, After the Vows, and many others.
Johnson shook up Houston, Texas with the stage play, "No More Drama Remix", featuring Gospel recording Artist Vickie Winans", at the University Of Houston Cullen Performance Hall in January 2007. This stage play drew so much attention that it has been by popular demand asked to tour other cities and has also been offered a movie deal; and AWJ plans to take it to the Big Screen.
The stage has been set and the future is looking bright for Annie Johnson. Currently, she is working on two new stage plays that will be featured on future city tours and The Big Screen. AWJ Production reality and inspirational stage plays have provided audiences with more than just entertainment. AWJ stage plays are designed to inspire the masses with a meaningful message through dramatization. 
Mrs. Johnson's vision is to lay a foundation of Love, Life & Salvation, through drama plays, for Annie, she doesn't call it entertainment, she calls it ministry. Her motto is" Whatever your hands find to do, do it with all your might (Ecclesiasts 9:10)." Annie Johnson, the Life, the Mind, the Talent, the Gift all of which came from God & All of which she gave right back to Him. To God Be the Glory….